BRABHAM AUTOMOTIVE WINS GOOD DESIGN AWARDS FOR ENGINEERING AND DESIGN EXCELLENCE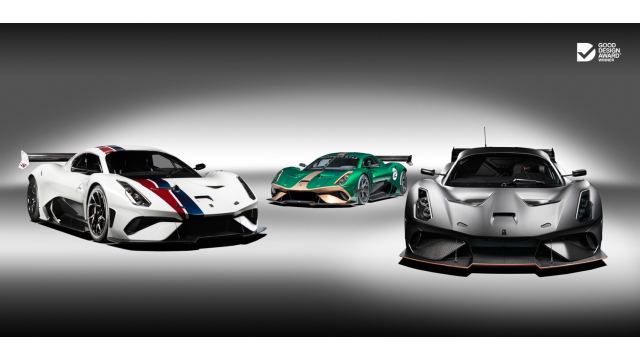 GoodDesignAwardBT621500px-62.jpg
SYDNEY, AUSTRALIA – Brabham Automotive has capped its first year of operations with two coveted awards at the annual Good Design Awards ceremony in Sydney. Brabham Automotive's much heralded BT62 won Good Design Awards for product design and engineering design.
The Good Design Awards are Australia's peak industry design awards available to companies from around the globe. Now in their 61st year, they represent the highest honour for design and innovation in Australia and celebrate the best new products and services on the Australian market.
The Brabham BT62 received an Engineering Excellence Accolade with the Good Design Awards jury stating:
"So many aspects of this vehicle are clearly at the cutting edge. Brabham have clearly mastered a wide range of design disciplines in order to engineer a vehicle of this type and there is no doubt that it amply meets the criteria of Good Design at every level. It is thrilling and even somewhat comforting to know that these skills exist at the highest level within an Australian manufacturer.
There is significant innovation embodied in the overall concept of coupling the high-tech light weight and high downforce body design with a relatively simple and robust engine to achieve extraordinary on-track performance without the extraordinary maintenance and repair costs often associated with more complex power plants. The credibility that this brings to an Australian manufacturer may well be influential in assisting the regrowth of a broader vehicles industry in Australia."
The BT62 also received a Design Excellence Accolade:
"As a piece of aesthetic design, the Brabham certainly has strong appeal. Kudos for keeping innovation and technological know-how in Australia where the local car manufacturing industry is all but gone."
Good Design Awards are only offered after a rigorous evaluation by an esteemed jury and according to strict criteria covering good design, design innovation and design impact.
Dan Marks, Commercial Director of Brabham Automotive:
"We launched Brabham Automotive just over a year ago, in May 2018. The public reception for the Brabham BT62 has been outstanding. We are proud to have been part of the revival of a global iconic marque that Australians hold so dear, whether they be motoring enthusiasts or not.
This is not just an Australian car, though. When we set a new lap record at Bathurst - a world-class circuit in every respect – the world soon realized that the BT62 is a car designed to compete on the world stage.
We are extremely proud to have our team's hard work recognised at the 2019 Good Design Awards. To receive such accolades from Australia's most prestigious design jury is independent validation of what we have achieved."
NOTES TO EDITORS
ABOUT BRABHAM AUTOMOTIVE:
Fearlessly determined and engineered for pure performance, Brabham Automotive is borne of a pedigree that has stood the test of time – a racing dynasty like no other.
The company has its US, European and Middle Eastern office in the UK, whilst its Australasian and Asian office and manufacturing facility is based in Adelaide, South Australia. Only seventy BT62s will be manufactured, making them very exclusive in nature.
The Brabham story officially began in 1948 when Sir Jack Brabham made his Australian competition debut. Sir Jack Brabham went on to become a triple world champion and in 1966 became the first, and still the only, man to win a Formula One world championship driving a car of his own construction, a feat which is unlikely to be ever matched.
70 years on, Brabham remains one of the most iconic motorsport marques with a lineage of champion racers, engineers and innovators. Spearheaded by Sir Jack Brabham's son David Brabham, a multiple Le Mans winner, Brabham Automotive continues a rich heritage, once again designing and manufacturing cars that defy convention. Weighing just 972kg, the Brabham BT62 has a 5.4l naturally aspirated engine and generates 1200kg of downforce.
Despite only building its first car in 1961, by the mid-1960s Brabham became the largest manufacturer of single-seat racing cars in the world, and by 1970 had built over 500 cars.
Renowned for its customer service, Brabham had the reputation of providing customers with cars of a standard equal to those used by the works team and provided a high degree of support to its customers—including Sir Jack Brabham himself helping customers set up their cars. This continues with Brabham Automotive.
Visit Brabham Automotive at https://www.brabhamautomotive.com
Download further detail here: http://www.brabhamautomotive.isebox.net
ABOUT GOOD DESIGN AUSTRALIA AND AUSTRALIA'S GOOD DESIGN AWARDS
Good Design Australia is an international design promotion organisation responsible for managing Australia's annual Good Design Awards and other signature design events. With a proud history that dates back to 1958, Good Design Australia remains committed to promoting the importance of design to business, industry, government and the general public and the critical role it plays in creating a better, safer and more prosperous world.
Visit Good Design Australia at https://www.good-design.org